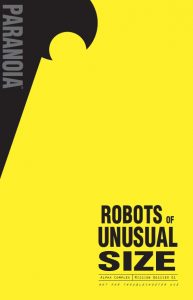 In my tenure aboard the Good Complex PARANOIA, I have a vague recollection that the first rule of PARANOIA Club was:
Don't take them Outside
In practice, Alpha Complex should – indeed must – be seen to be believed. The Troubleshooters should grasp that Alpha Complex is home and The Computer… well, sort of Mother. And Father for that matter.
With work allocations, Communists, mutant Traitors, conniving Secret Societies, Hot Fun, termination voucher shortages and more besides to keep the average RED Clearance Troubleshooter engaged and EXTREMELY HAPPY, FRIEND COMPUTER! — there was no need to worry if there even was an Outside. Inside was more than enough.
It's with concern that I spy that Robots of Unusual Size, the first adventure for the new PARANOIA provides:
an exciting(ish) mission for a group of RED clearance Troubleshooters. In their loyal service to the Computer they will venture Outside Alpha Complex (!!!) aboard a Robot of Unusual Size
Away from all the real fun!
Treason Points All Round!